Buyer's Guide for

AI Training Data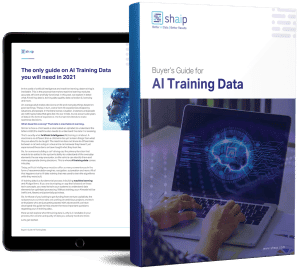 Accelerate Your AI / ML Development
In the world of artificial intelligence and machine learning, data training is inevitable. This is the process that makes machine learning modules accurate, efficient, and fully functional. Without training, your AI model will be inefficient, flawed, and potentially pointless.
So, for those of you looking to get funding from venture capitalists, the solopreneurs out there who are working on ambitious projects, and tech enthusiasts who are just getting started with advanced AI, we have developed this guide to help answer the most important questions regarding your AI training data.

In this buyers guide you will learn:
What AI training data is & why is it required?

How much Data is Adequate?

How do you improve Data Quality?
Where do you source AI Training Data from?
What next after Data Sourcing?
Open Datasets – To use or not to use?
FREE COPY
Download The Buyers Guide