eBook
The Key to Overcoming
AI Development Obstacles

Reliable AI Training Data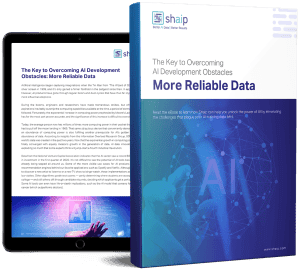 Accelerate Your AI / ML Development
There is indeed an incredible amount of data being generated every day: 2.5 quintillion bytes, according to Social Media Today. But that doesn't mean it's all worthy of training your algorithm. Some data is incomplete, some is low-quality, and some is just plain inaccurate, so using any of this faulty information will result in the same traits out of your (expensive) AI data innovation.
According to research from Gartner, some 85% of AI projects created by 2022 will produce inaccurate results because of biased or inaccurate data. While you can easily skip a song recommendation that doesn't suit your tastes, other inaccurate algorithms come at a significant financial and reputational cost.
In this eBook you will learn:
The Key to Overcoming AI Development Obstacles
The Challenge of Inconsistent Data Quality in AI Solutions
Navigating Complex Compliance Demands
Overcoming AI Development Obstacles
Read the eBook to learn how Shaip can help you unlock the power of AI by eliminating
the challenges that plague your AI training data sets.
FREE COPY
Download The eBook