Named Entity Recognition for Healthcare
Entity Extraction / Recognition to train NLP models
Extract essential insights from unstructured medical data using entity extraction.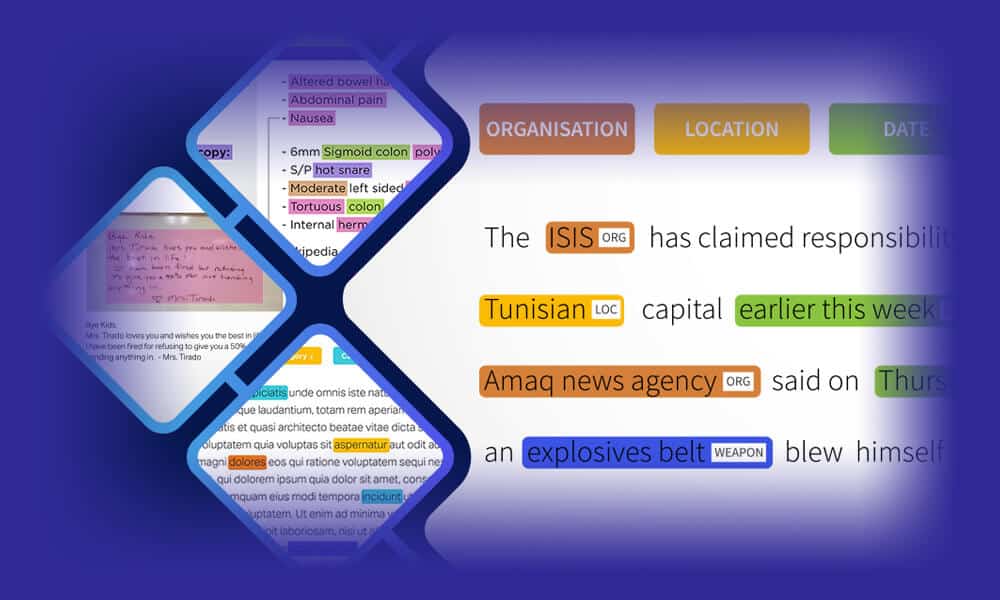 Featured Clients
Empowering teams to build world-leading AI products.
What is NER
Analyze data to discover meaningful insights
Named Entity Recognition (NER) in the healthcare detects and categorizes entities like patient names, medical terms, and various terminologies from unstructured text. This capability elevates data extraction, eases information retrieval, and empowers sophisticated AI systems, establishing it as an essential instrument for healthcare institutions.
Shaip NER is tailored to help healthcare institutions decipher vital details in unstructured data, revealing connections among entities in medical reports, insurance documents, patient reviews, clinical notes, etc. Bolstered by our deep expertise in NLP, we provide insights and tackle complex annotation projects, regardless of their magnitude.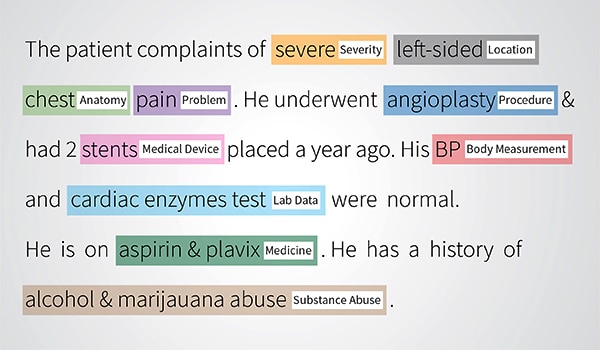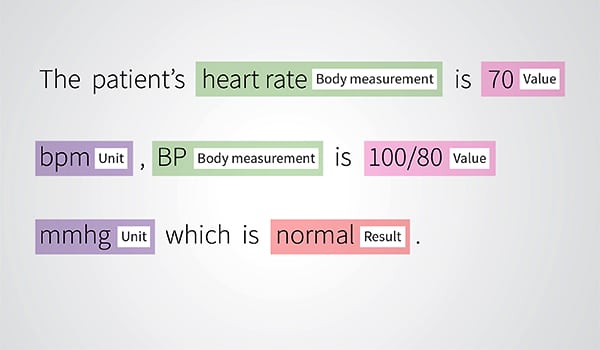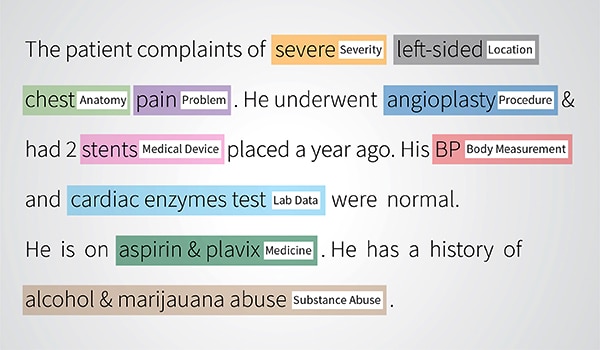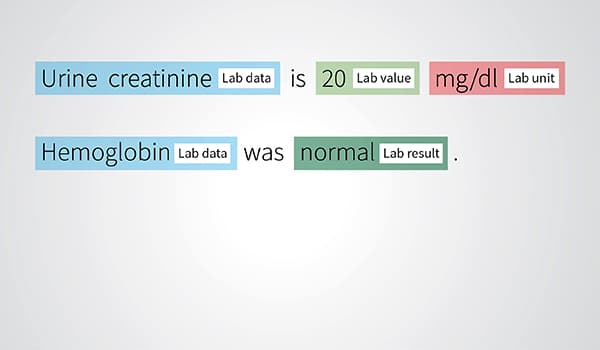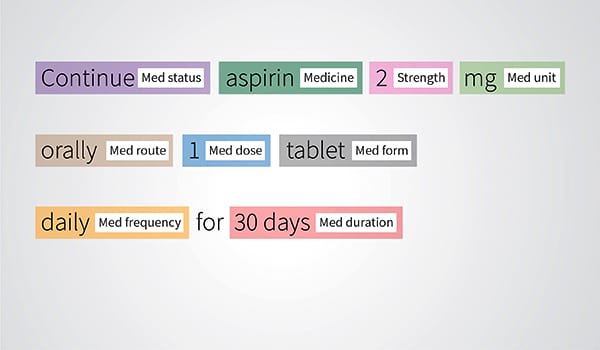 Named Entity Recognition (NER)
Clinical NER API identifies and extracts medical entities, its context and relationship from large chunks of unstructured clinical data using Deep Learning NLP Models. In the context of healthcare, the API can accurately detect and categorize words or phrases in a text that represent medically significant information.
Identification of problem, anatomical structure, medicine, procedure from medical records such as EHRs; are usually unstructured & require additional processing to extract structured information. This is often complex and requires domain experts from to extract relevant entities.
Categories typically detected by the Medical NER API include:
MEDICAL_CONDITION: Identifies diseases, injuries, symptoms, or any health complaints.
MEDICATION: Names of drugs, treatments, or other therapeutic substances.
ANATOMY: Terms related to body parts, organs, or anatomical structures.
PROCEDURE:

Identifies medical interventions, tests, or operations.

TEST_RESULT:

Highlights outcomes from medical tests.
PERSON:

Identifies individuals involved in the patient's care or personal life.



TIME: Identifies time-related references, such as durations, frequencies, or specific dates.
1. Clinical Entity Recognition
A vast volume of medical information is present in health records, predominantly in an unstructured manner. Medical entity annotation facilitates the transformation of this unstructured content into an organized format.
2. Attribution
2.1 Medicine Attributes
Nearly every medical record contains details about medications and their characteristics, a crucial aspect of clinical practice. It's possible to pinpoint and mark the different attributes of these medications following established guidelines.
2.2 Lab Data Attributes
Laboratory data in medical records often include their specific attributes. We can discern and annotate these attributes of the lab data in line with established guidelines.
2.3 Body Measurement Attributes
Body measurements, often encompassing vital signs, are typically documented with their respective attributes in medical records. We can pinpoint and annotate these various attributes related to body measurements.
3. Oncology Specific NER
In addition to general medical Named Entity Recognition (NER) annotations, we can delve into specialized domains such as oncology and radiology. For the oncology domain, the specific NER entities that can be annotated include: Cancer Problem, Histology, Cancer Stage, TNM Stage, Cancer Grade, Dimension, Clinical Status, Tumor Marker Test, Cancer Medicine, Cancer Surgery, Radiation, Gene Studied, Variation Code, and Body Site.
4. Adverse Effect NER & Relationship
In addition to pinpointing and annotating primary clinical entities and their relationships, we can also highlight the side effects associated with specific drugs or procedures. The outlined approach involves:
Tagging adverse effects and the agents responsible for them.
Determining and documenting the relationship between the adverse effect and its causative agent.
5. Assertion Status
Beyond pinpointing clinical entities and their relationships, we can also categorize the Status, Negation, and Subject pertaining to these clinical entities.
Creating clinical NLP is a critical task that requires tremendous domain expertise to solve. I can clearly see that you are several years ahead of Google in this area. I want to work with you and scale you.
Google, Inc.
Director
My engineering team worked with Shaip's team for 2+ years during the development of healthcare speech APIs. We have been impressed with their work done in healthcare-specific NLP and what they are able to achieve with complex datasets.
Google, Inc.
Head of Engineering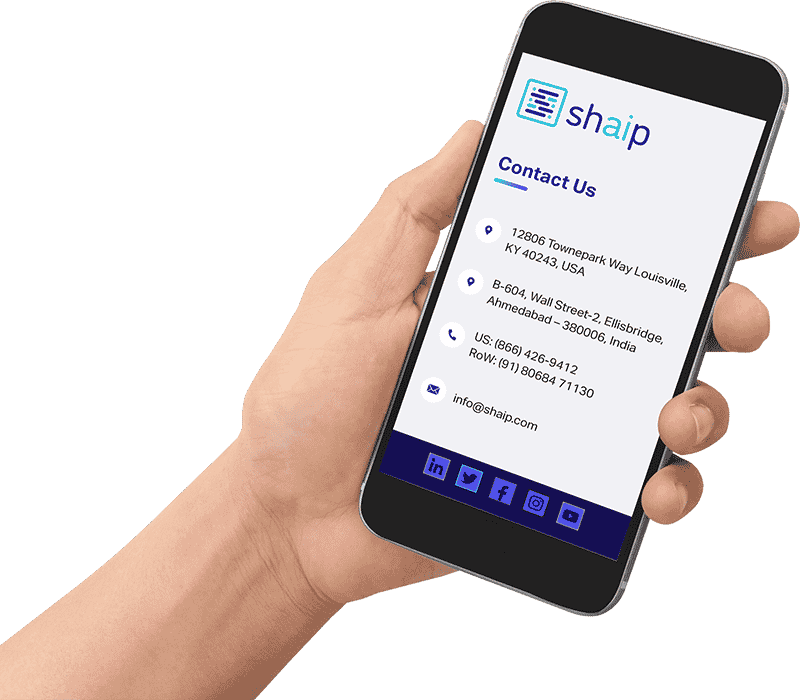 Want to build your own NER training data?
Contact us now to learn how we can collect a custom NER dataset for your unique AI/ML solution