Expert Data Annotation / Data Labeling Services For Machines By Humans
Accurately annotate your Text, Image, Audio, and Video data to improve your Artificial Intelligence (AI) and Machine Learning (ML) models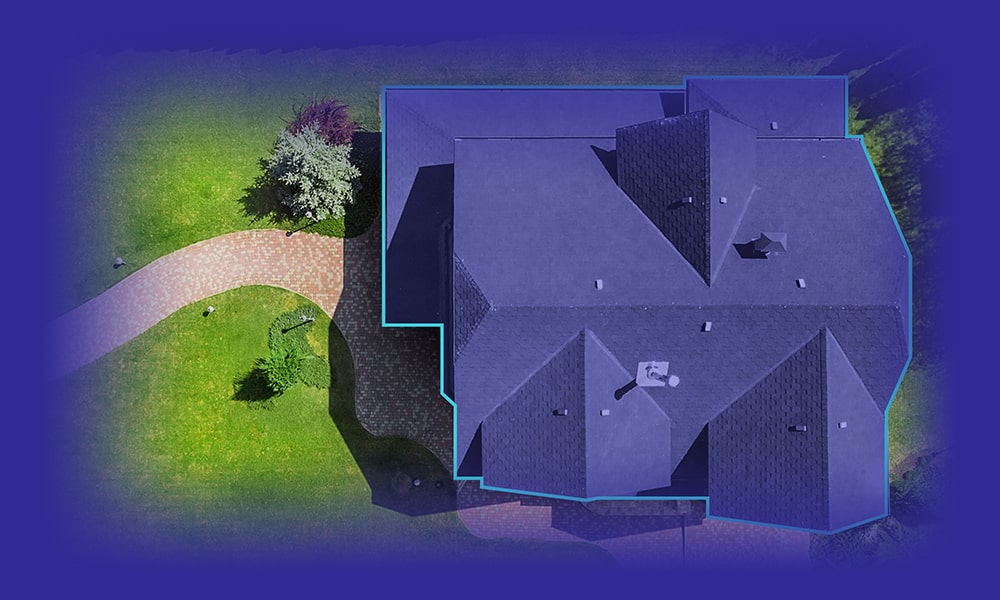 Eliminate the bottleneck in your annotation pipeline today.
A Custom End-To-End Data Annotation Solutions to train AI / ML algorithms
AI feeds on copious amounts of data and leverages machine learning (ML), deep learning (DL) and natural language processing (NLP) to continually learn and evolve. Shaip's data annotation tool makes data with specific objects recognizable for AI engines. Tagging objects within textual, image, scans, etc. enables machine learning algorithms to interpret the labeled data and get trained to solve real business cases.
The task of data annotation and labeling must meet two essential parameters: quality and accuracy. After all, this is the data that both validate and train the AI and ML models your team is developing. Now AI and ML can not only think faster, but smarter. It's the required data to the power that thinking as well as validate your model outcomes.
We are one of the very few data labeling companies to have the capability and experience that is second to none
Well-annotated and gold standard data from expert annotators
Domain experts across industry verticals for data annotation projects i.e. licensed healthcare professionals to execute medical annotation tasks
Experts to help formulate the project guidelines
Diverse data annotation services such as Image segmentation, object detection, classification, bounding box, audio, NER, sentiment analysis
Leverage next-gen cognitive data labeling services to acquire readily-available quality data to train AI/ML algorithms, developed by our pool of data annotation experts, to accelerate deep learning.
You've finally found the right Data Annotation Company
Best AI Data Annotation Services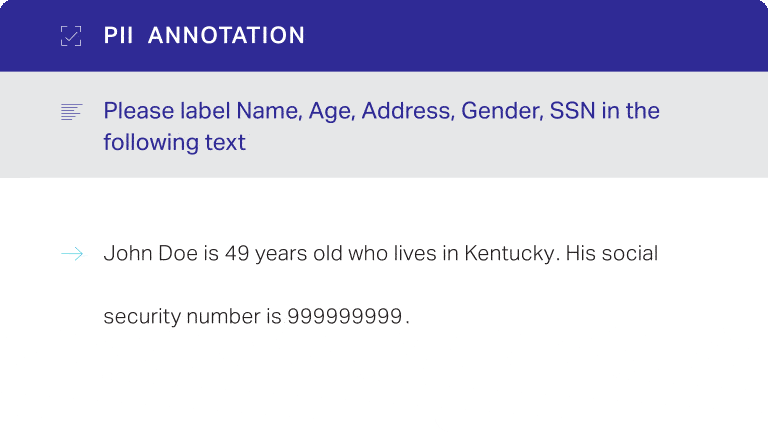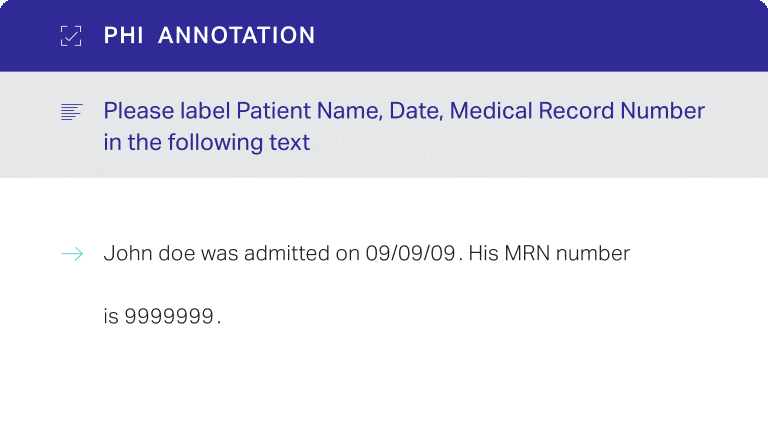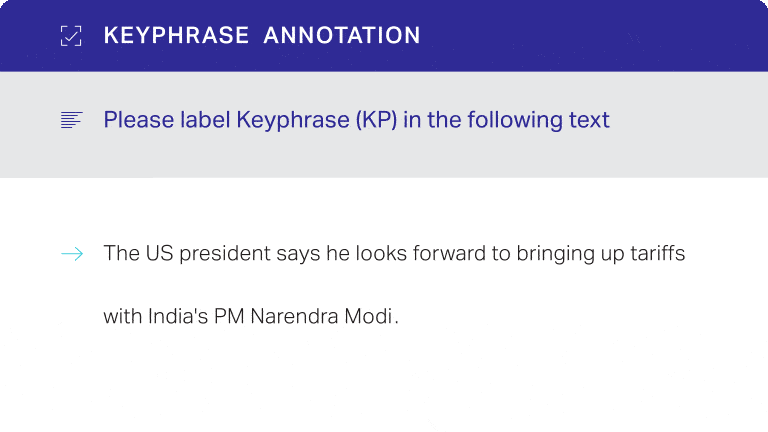 Text Annotation
General Text Annotation
We provide cognitive text data annotation services through our patented text annotation tool that is designed to allow organizations to unlock critical information in unstructured text. Data annotation with respect to text helps machines to understand the human language. With rich experience in natural language and linguistics, we are well equipped to handle text annotation projects of any scale. Our qualified team can work on different text annotation services like named entity recognition, intent analysis, sentiment analysis, etc.
Medical Text Annotation
80% of data in the healthcare domain is unstructured, making it inaccessible to traditional analytics solutions. Without manual intervention, it limits the quantity of usable data and its impact on an organization's decision making. Understanding text in the healthcare domain requires a deep understanding of healthcare terminology to unlock its potential. As one of the premier AI annotation companies, we provide domain experts to help you label & annotate your medical data to improve AI engines.
The unstructured data can include physician notes, discharge summaries, and pathology reports, using natural language processing to deliver domain-specific insights about information, such as symptoms, disease, allergies, and medication, to help drive insights for care.
Easily scale as required with simplified data annotation pricing– pay-as-you-grow business model
The platform is designed to annotate with PHI in mind
Extraction of concepts from any source of unstructured text in de-identified medical records
Highly customizable annotation platform, providing the ability to tailor the labels to distinct healthcare use casese
Image Annotation
General Image Annotation
Image annotation is the process of associating section of an image or the entire image, with an identifier label. With our image annotation tools and proprietary platform, we can annotate images through various techniques i.e. bounding box, 3D cuboids, semantic annotation, pixel-wise segmentation, polygons, image classification, and more to create training datasets for machine learning models to enhance your AI engines.
AI-enabled systems with human annotators, enhances the effectiveness to automate the most repetitive activities that are prone to errors. We can easily scale to 1000s of annotators to manage any size of project.
Medical Image Annotation
At Shaip, we understand how critical medical imagery is to healthcare. From detecting anomalies and tumors that could go unnoticed to the human eye to studying carcinogens and diseases, medical image annotation requires complete mastery over skills and airtight industry expertise. Our in-house team of experts rightly fit the bill as they can manually annotate medical image data with their hands-on industry expertise. Our team can work on diverse image-based datasets such as X-Rays, CT Scans, MRIs, and more.
AI-backed machines use computer vision to detect patterns and correlate the same with medical imaging data to identify possible diseases and prepare reports after analysis.
X-Ray, CT Scan, MRI, and other image-based test reports can be easily screened to predict various ailments.
Our Healthcare trained workforce helps label images using a series of manual processes and high-end image classification technology to offer a faster scale healthcare annotation to build your models.
Audio Annotation
Audio annotation services have been a forte of Shaip since the beginning. Develop, train & improve conversational AI, chatbots and speech recognition engines with our state-of-the-art audio annotation services. Our network of qualified linguists across the globe with an experienced project management team can collect hours of multilingual audio and annotate large volumes of data to train voice-enabled applications. We also transcribe audio files to extract meaningful insights available in audio formats.
Video Annotation
Capture each object in the video, frame-by-frame, and annotate it to make the moving objects recognizable by machines with our advance video annotation tool. We have the technology and the experience to offer video annotation services that help you with comprehensively labeled datasets for all your video annotation needs. We help you build your computer vision models accurately and with the desired level of accuracy.
Reasons to choose Shaip as your trustworthy Data Annotation Service Provider
People
Dedicated and trained teams:
30,000+ collaborators for Data Creation, Labeling & QA
Credentialed Project Management Team
Experienced Product Development Team
Talent Pool Sourcing & Onboarding Team
Process
Highest process efficiency is assured with:
Robust 6 Sigma Stage-Gate Process
A dedicated team of 6 Sigma black belts – Key process owners & Quality compliance
Continuous Improvement & Feedback Loop
Platform
The patented platform offers benefits:
Web-based end-to-end platform
Impeccable Quality
Faster TAT
Seamless Delivery
Why Data Annotation Outsourcing Is Recommended For Your AI Projects
Clinical Text Annotation
Insurance Forms Annotation
Auto Video Tag
Clinical Text Annotation
Goal: Develop AI models in healthcare to improve patient care.
Challenge:  De-identification and annotation of clinical documents that can be used for Named Entity Recognition and develop AI models.
Our Contribution: Delivered 30,000+ de-identified clinical documents adhering to Safe Harbor Guidelines. These clinical documents were annotated with 9 clinical entity types and 4 relationships.
End Result: Client leveraged gold standard well-annotated data in training AI models.        
Insurance Forms Annotation
Auto Video Tag
Featured Clients
Empowering teams to build world-leading AI products.
Creating clinical NLP is a critical task that requires tremendous domain expertise to solve. I can clearly see that you are several years ahead of Google in this area. I want to work with you and scale you.
Google, Inc.
Director
My engineering team worked with Shaip's team for 2+ years during the development of healthcare speech APIs. We have been impressed with their work done in healthcare-specific NLP and what they are able to achieve with complex datasets.
Google, Inc.
Head of Engineering
Need help with data annotation services/data labeling services, one of our experts would be happy to help.