Prepare discerning AI Models with state-of-art Text Annotation Services
Let our text annotation services create exhaustive, detailed, and unique data sets, to fit right into your inventing ML & NLP prototypes.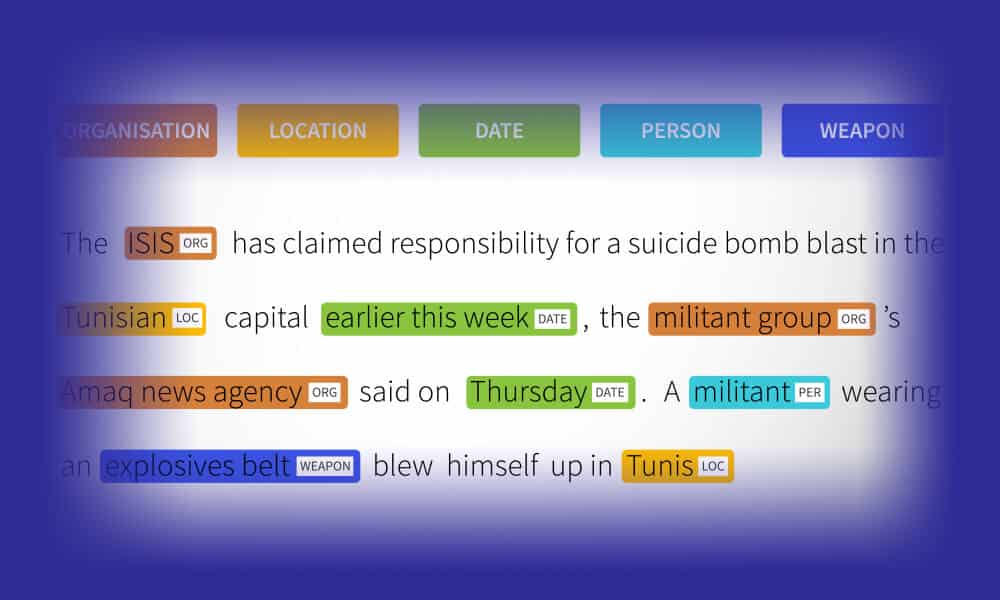 Bring your text data to life! 
Why is Text Annotation Services needed for NLP?
In an era where chatbots, email filters, and multilingual translators are having a field day, it often takes just more than an idea to create intelligent AIs as the next breakthrough tech. Proponents of NLP-powered systems believe that for algorithms to function at their peak, models need to be fed with inordinate volumes of labeled text data, made possible by credible text annotation solutions & services.
To simplify, text annotation aims at creating unique, project-driven datasets, relevant to a particular AI setup. These high-quality datasets are instrumental in training models to perform as specified.
Still unsure about how text annotation for Machine Learning works! Well, imagine visiting a website with integrated chatbots at 3 am in the morning, where you type in questions and get answers in the twinkling of an eye. You certainly cannot expect a person to respond at such an odd hour. This is where the magic of AI kicks in as the chatbots, upon receiving a query, quickly retrieve responses from the training data.
Accurate Text Annotation For Machine Learning
As much as the concept feels intriguing, preparing similar resources can take a lot of effort, professional experience, and expert-level intellect. This is where Shaip shows up as a reliable text annotation company, focusing extensively on labeling the collected data to perfection.
With Shaip on board, you can stop worrying about the perceptive abilities of your machine learning setups as the AI training data on offer is prepared to interpret responses, semantics, and yes, even sentiments.
Looking for more, here are some of the added benefits of relying on Shaip as your Text Annotation outsourcing partner: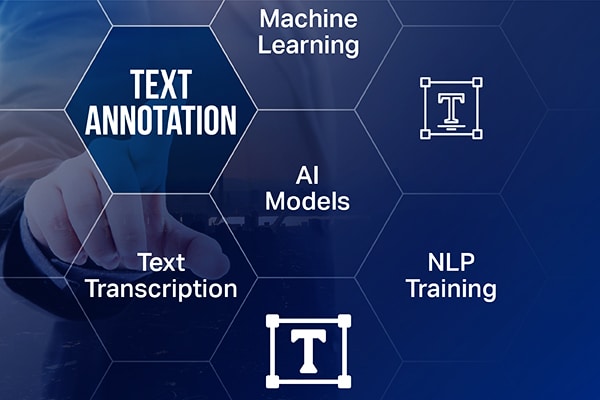 Goal-intensive approach
Focus on context and clarity of communication
Ability to train machines with linguistic elements
Exhaustive search engine labeling
Scalable offerings
Multi-lingual machine translation
Our Expertise
Goal-specific Text Labeling Services
We provide cognitive text labeling services through our patented text labeling tool that is designed to allow organizations to unlock critical information in unstructured text. Annotating the text available helps machines to understand the human language. With rich experience in natural language and linguistics, we are well equipped to handle text labeling projects of any scale. Our qualified team can work on different text labeling solutions like named entity recognition, intent analysis, sentiment analysis, document annotation etc. Pick one that suits your requirements and let Shaip handle the heavy lifting. Below are few annotated text examples.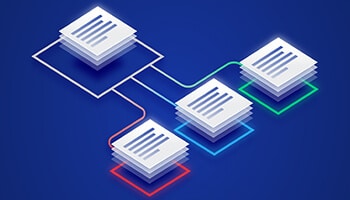 Text Classification
The most elementary approach concerning text annotation, which focuses on categorizing text, based on the content type, intent, sentiment, & subject. Once categorized, the datasets are fed into the system as a part of a predefined segment, which machines can access to generate a response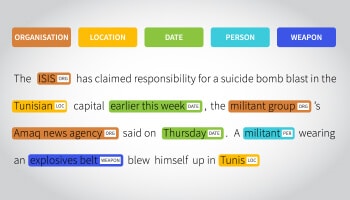 Linguistic Annotation
Originally termed as corpus annotation, this form of textual dataset labeling focuses on the language details of audio and texts; Plus, it also takes phonetic annotation, bits of semantic annotation, POS tagging, etc. This approach is pertinent when it comes to training machine translation models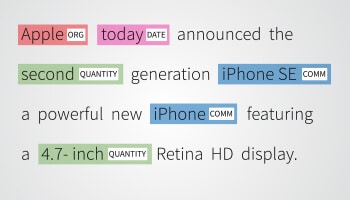 Entity Annotation
This method of labeling is pivotal when it comes to Chatbot training. The focus here lies in extracting, locating, and tagging entities before feeding the data into the system. As with any Chatbot-powered interface, name entities, key phrases, and POS like adjectives, adverbs, and more become the centerpiece.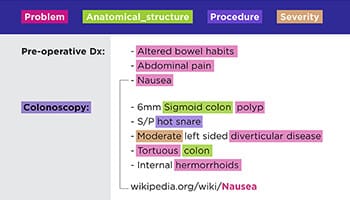 Entity Linking
While annotators extract entities from larger data repositories, they need to be interlinked to form datasets that carry meaning. This is one of the few text annotation tools that include setting up complete knowledge databases via disambiguation and eventually end-to-end linking. e.g., URL routing, directly from chat interface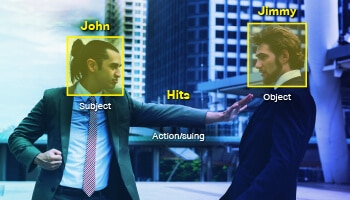 SAO (Subject Action Object)
When a text contains multiple entities, linked by an action. For instance, 'John hits Jimmy', is open to entity annotation & text classification, where a label concerning law-based discussion is added. However, for the model to understand the sentence, it needs to be fed SAO data, with John being the subject, Jimmy the object & suing being the action.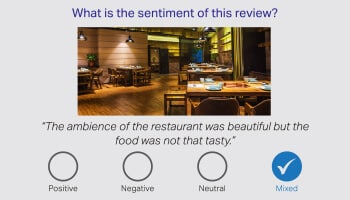 Sentiment Annotation
Sentiment annotation takes care of emotional labeling and allows intelligent setups to detect hidden connotations, opinions, and specific sentiments. Annotators are assigned responsibilities to review text and label them as negative, neutral, and positive sentiments. While intent annotation focuses on the desire of the query.
Every text needs to go through this form of labeling for training the models to perfection
Reasons to choose Shaip as your Trustworthy Text Annotation Partner
People
Dedicated and trained teams:
30,000+ collaborators for Data Creation, Labeling & QA
Credentialed Project Management Team
Experienced Product Development Team
Talent Pool Sourcing & Onboarding Team
Process
Highest process efficiency is assured with:
Robust 6 Sigma Stage-Gate Process
A dedicated team of 6 Sigma black belts – Key process owners & Quality compliance
Continuous Improvement & Feedback Loop
Platform
The patented platform offers benefits:
Web-based end-to-end platform
Impeccable Quality
Faster TAT
Seamless Delivery
Why you should outsource Text Data Labeling / Annotation
Services Offered
Expert image data collection isn't all-hands-on-deck for comprehensive AI setups. At Shaip, you can even consider the following services to make models way more widespread than usual: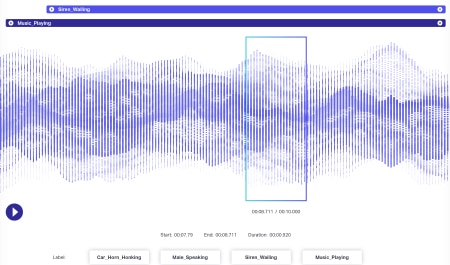 Audio Annotation
Services
Labeling audio sources, speech, and voice-specific datasets via relevant tools like speech recognition, speaker diarization, emotion recognition, and more, is something Shaip specializes in.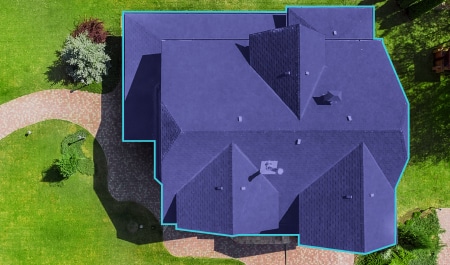 Image Annotation
Services
We take pride in labeling, segmented image datasets to train discerning computer vision models. Some of the relevant techniques include boundary recognition & image classification.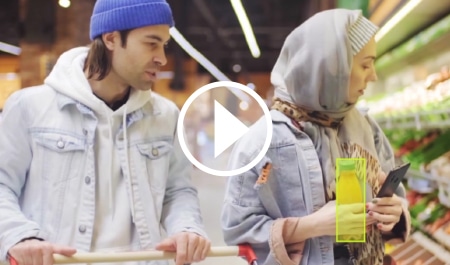 Video Annotation
Services
Shaip offers high-end video labeling services for training Computer Vision models. The aim here is to make datasets usable with tools like pattern recognition, object detection, and more.
NLP System in the Pipeline? Invest in Avant-grade text labeling services – our experts take care of complex labeling