Named Entity Recognition Annotation Experts
Human Powered Entity Extraction / Recognition to train NLP models
Unlock critical information in unstructured data with entity extraction in NLP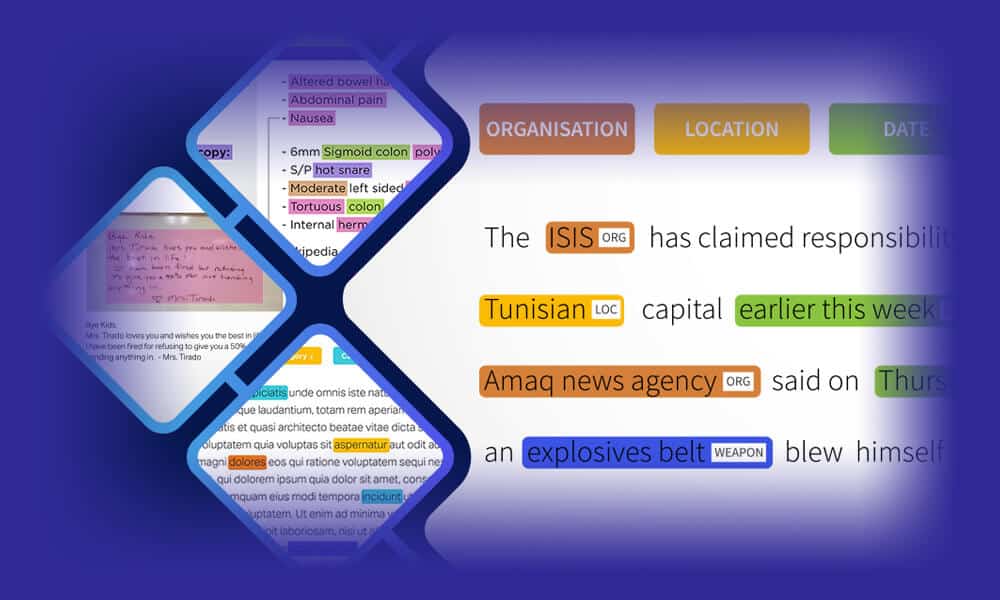 Featured Clients
Empowering teams to build world-leading AI products.
There's an increasing demand to analyze unstructured data to uncover undiscovered insights.
Looking at the speed at which the data is generated; of which 80% is unstructured, there is a need on ground to use next-gen technologies to analyze the data effectively and gain meaningful insights for making better decisions. Named Entity Recognition (NER) in NLP primarily focuses on processing unstructured data and classifying these named entities into predefined categories.
IDC, Analyst Firm:
The worldwide installed base of storage capacity will reach 11.7 zettabytes in 2023
IBM, Gartner & IDC:
80% of the data around the world is unstructured, making it obsolete and unusable. 
What is NER
Analyze data to discover meaningful insights
Named Entity Recognition (NER), identifies and classifies entities such as people, organizations, and locations within unstructured text. NER enhances data extraction, simplifies information retrieval, and powers advanced AI applications, making it a vital tool for businesses to leverage. With NER, organizations can gain valuable insights, improve customer experiences, and streamline processes.
Shaip NER is designed to allow organizations to unlock critical information in unstructured data & lets you discover relationships among entities from financial statements, insurance documents, reviews, physician notes, etc. With rich experience in NLP & linguistics, we are well equipped to deliver domain-specific insights to handle annotation projects of any scale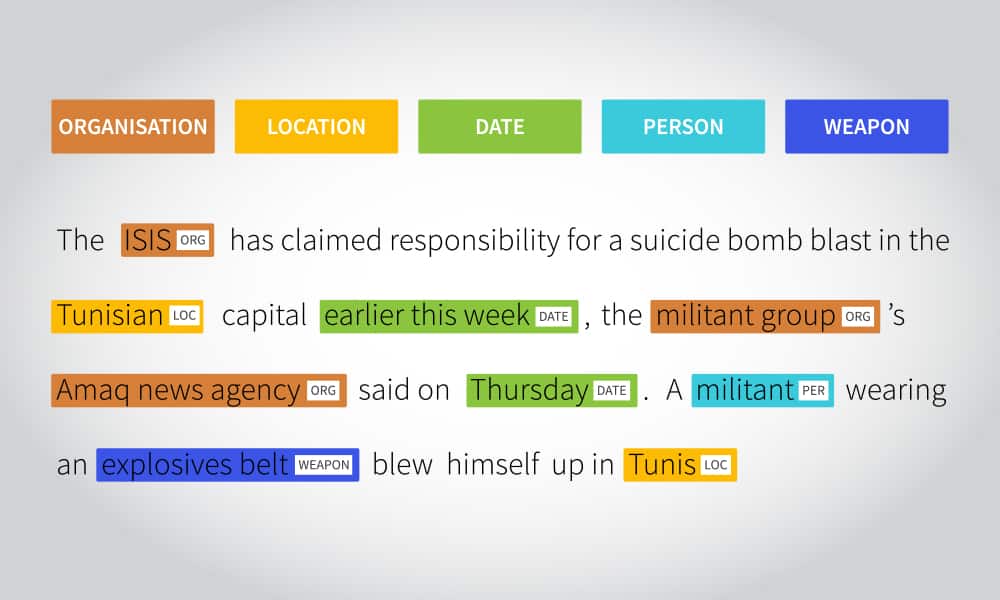 NER Approaches
The primary goal of a NER model is to label or tag entities in text documents and categorize them for deep learning. The following three approaches are generally used for this purpose. However, you can choose to combine one or more methods as well. The different approaches to creating NER systems are:

This is perhaps the most simple and fundamental NER approach. It will use a dictionary with many words, synonyms, and vocabulary collection. The system will check whether a particular entity present in the text is also available in the vocabulary. By using a string-matching algorithm, a cross-checking of entities is performed. There is a need for constantly upgrading the vocabulary dataset for the effective functioning of NER model.


Information extraction based on a set of pre-set rules, which are
Pattern-based rules – As the name suggests, a pattern-based rule follows a morphological pattern or string of words used in the document.
Context-based rules – Context-based rules depend on the meaning or the context of the word in the document.
Machine learning-based systems

In Machine learning-based systems, statistical modeling is used to detect entities. A feature-based representation of the text document is used in this approach. You can overcome several drawbacks of the first two approaches since the model can recognize entity types despite slight variations in their spellings for deep learning.
General NER
Medical NER

PII Annotation

PHI Annotation
Key Phrase Annotation
Incident Annotation
Streamlined Customer Support
Efficient Human Resources
Simplified Content Classification
Improve patient care
Optimizing Search Engines
Accurate Content recommendation
Information Extraction & Recognition Systems
Question-Answer Systems
Machine Translation Systems
Automatic Summarizing Systems
Semantic Annotation
NER Annotation Process
NER annotation process generally differs to a client's requirement but it majorly involves:
Phase 1: Technical domain expertise (Understanding project scope & annotation guidelines)
Phase 2: Training appropriate resources for the project
Phase 3: Feedback cycle and QA of the annotated documents
1. Named Entity Recognition (NER) 
Named Entity Recognition in Machine Learning is a part of Natural Language Processing. The primary objective of NER is to process structured and unstructured data and classify these named entities into predefined categories. Some common categories include name, location, company, time, monetary values, events, and more.
1.1 General Domain
Identification of people, place, organization etc. in the general domain
1.2 Insurance Domain 
It involves extraction of entities in insurance documents such as 
Sums insured
Limits of Indemnity/policy limits
Estimates such as wage roll, turnover, fee income, exports/imports
Vehicle schedules
Policy extensions and inner limits 
1.3 Clinical Domain / Medical NER
Identification of problem, anatomical structure, medicine, procedure from medical records such as EHRs; are usually unstructured in nature and require additional processing to extract structured information. This is often complex and requires domain experts from healthcare to extract relevant entities.
2. Key phrase Annotation (KP)
It identifies a discrete noun phrase in a text. A noun phrase may be either simple (e.g. single head word like noun, proper noun or pronoun) or complex (e.g. a noun phrase that has a head word along with its associated modifiers)
3. PII Annotation
PII refers to Personally Identifiable Information. This task involves annotation of any key identifiers which can relate back to a person's identity.
4. PHI Annotation
PHI refers to Protected Health Information. This task involves annotation of 18 key patient identifiers as identified under HIPAA, in order to de-identify a patient record/identity.
5. Incident Annotation
Identification of information like who, what, when, where about an event e.g. Attack, kidnapping, Investment etc. This annotation process has following steps: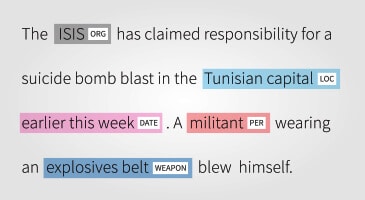 5.1. Entity Identification (e.g. Person, place, organization, etc.)
5.2. Identification of word denoting the main incident (i.e. trigger word)
5.3. Identification of relation between a trigger and entity types
Creating clinical NLP is a critical task that requires tremendous domain expertise to solve. I can clearly see that you are several years ahead of Google in this area. I want to work with you and scale you.
Google, Inc.
Director
My engineering team worked with Shaip's team for 2+ years during the development of healthcare speech APIs. We have been impressed with their work done in healthcare-specific NLP and what they are able to achieve with complex datasets.
Google, Inc.
Head of Engineering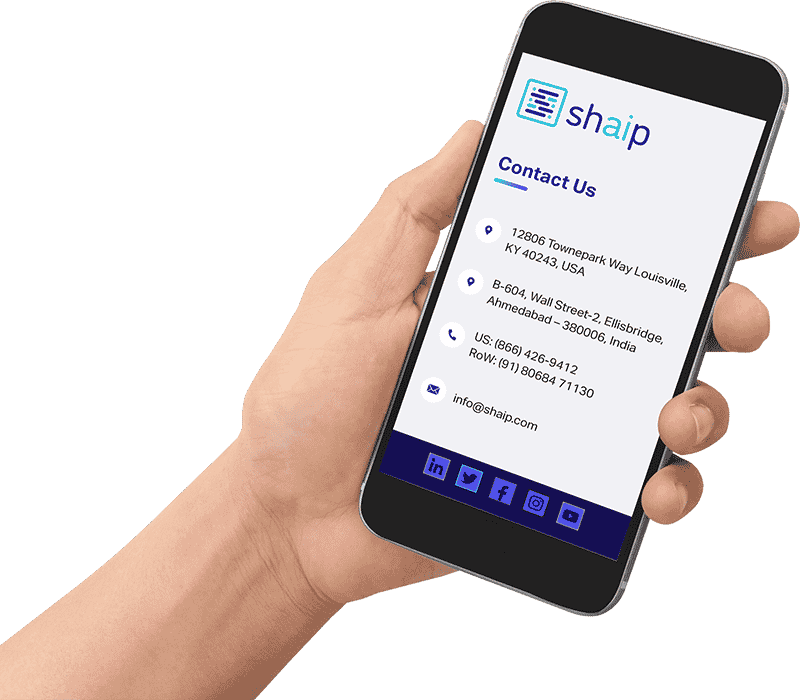 Want to build your own NER training data?
Contact us now to learn how we can collect a custom NER dataset for your unique AI/ML solution