There is an unmistakable convenience in giving verbal instructions rather than having to type it out or select the correct item off a drop-down menu. This ease of operations has ensured a faster adoption of voice technology.
In fact, in the US, UK, and Germany, daily usage of voice assistants such as Amazon Alexa and Apple SIRI is over 30%, and the weekly usage has touched the 50% mark, according to 2021 Voice Consumer Index reports.
One of the areas where voice assistant technology is being harnessed in healthcare. The impact of healthcare voice assistants and conversational interfaces is paving the way for meaningful measurement and availability of healthcare facilities to all. Let's look at the role of VA technology in healthcare.
Role of Voice Assistants in Healthcare
The familiarity of using voice commands aids in the easier adoption of the technology among patients and clinical staff. The user interface in voice assistants is attractive and easy to use and operate by patients of all age groups. If voice technology is a challenge, it adds a layer of complexity that will deter patients from using it.
Healthcare Voice assistant developers must remember that the elderly patients using their products might not have anyone who can familiarize them with the technology. That's why major VA developers include large fonts, simple interfaces, voice-based instruction manuals, and interactive voice control.
Patients with dexterity or mobility issues can reliably use speech recognition technology to receive critical care. Patients with visual impairment who cannot view their documents or printed information can easily access their healthcare data. With VA, clinicians also enjoy hands-free comfort and are better able to offer assistance to patients while managing in-room tasks.
How is the Healthcare Industry Leveraging Voice Assistant Technology?
The healthcare industry is one of the most advanced sectors that adopts the latest innovative technologies to further the quality of care provided to patients. It is no surprise then that the industry is pioneering the use of VA and recognizing innovative ways to use voice assistant technology.
Voice Assistants technology is proving to be beneficial to both patients and physicians. The use cases of VA in healthcare are increasing alongside improvements and advancements in technology and consumer needs.
Seamless Workflow Improvements
Nurses and clinicians are generally bogged down by non-clinical tasks which are necessary but don't allow them time to focus on productive work.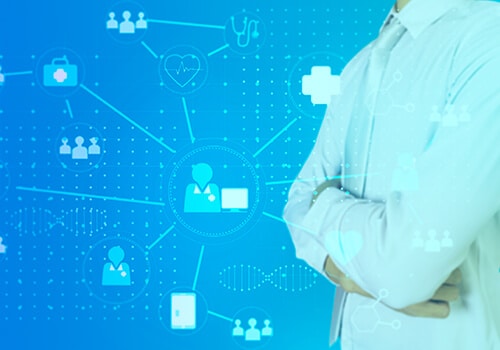 A simple voice-assisted TV or application can provide patients with basic health information about their medicines or discharge checklist, which would otherwise be provided by the nurses.
A voice-based virtual assistant is also being used to provide real-time reminders for prescription medicines to patients who are at a risk for non-adherence.
Additionally, with VA it is also easier to disburse critical healthcare information to patients, provide real-time answers regarding their symptoms, assess treatment options, and maintain healthcare history using previous conversations.
Let's discuss your AI Training Data requirement today.
Real-time Discharge Planning
After patient discharge, it is usually challenging to provide consistent care to patients.
With VA, clinicians can continue to manage patient health by real-time monitoring of symptoms, providing educational and medical information, answering queries regarding care plans, and aiding them to transition smoothly into self-care.
Ease of Appointment Booking
By integrating AI-powered Voice Assistants within their system, healthcare facilities can help in appointment booking and bed allocation. Digital Assistants are especially helpful for patients who face linguistic challenges and aid them in managing their appointments.
Delivering Enhanced Patient Comfort
With voice-activated systems, patients need not get out of their hospital bed to operate TV, lights, window coverings, or call for nurses. By giving patients hands-free comfort, voice-enabled assistants ensure patient comfort and safety are a top priority.
Patients, especially the elderly, might not be able to accurately articulate their symptoms or remember the onset of their problems. With a voice-activated system working on robust AI software, doctors will be able to provide reliable treatment by matching their symptoms with relevant conditions.
Understanding Human Voice to Evaluate Health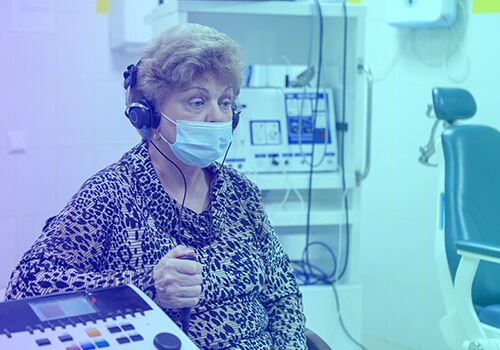 The spoken word contains a wealth of healthcare information that is being leveraged by the healthcare system.
Recent research is validating the fact that our voice can be used to evaluate the condition of our health. Similar to biomarkers such as pulse, heartbeat, blood pressure, and more, our voice – with its pitch, tone, stress intensity, coordination, tremors, shivers, and more, can provide an in-depth understanding of our health.
Conversational AI-based voice technology can transform the quality of care by incorporating acoustic features within their software. With these acoustic functionalities, voice assistants can detect changes in vocal features to predict conditions such as heart diseases, dementia, anxiety, stress, depression, emotional distress, concussions and more.
Developing a reliable and advanced voice-assisted application requires much information and AI-powered intelligent software.  It also depends on training the ML and Natural Language Processing system to understand human speech, interactions, nuances, and conversations. The system must also be trained on Voice sentiment analysis to diagnose medical conditions.
The quality of the AI-Voice Assistants in healthcare depends mainly on the quality of training, and Shaip provides you with a robust and dynamic training database. With this quality dataset, you can develop purposeful, reliable, and impactful voice assistants to boost patient and clinician healthcare experience.