ShaipCloud™ Platform
Our AI data Platform works smarter to make your job easier.
Experience unparalleled functionality and platform integration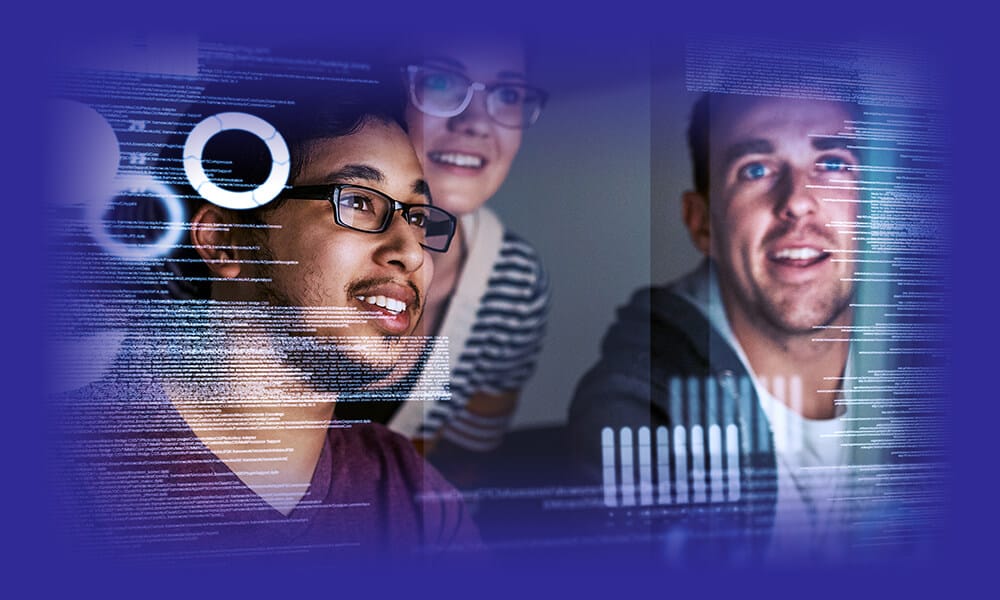 The secure ShaipCloud™ platform offers unparalleled functionality and speed to create, transform and annotate data for your most challenging AI models.
Overview
Our platform is more than just highly functional. ShaipCloud™ utilizes patented technology to track and monitor workloads, transcribe audio and utterances, annotate text, as well as manage quality control and data exchange. The result? Your AI project gets the highest quality data possible. Not only do you get it quickly and at an affordable cost but as your AI project grows, ShaipCloud™ grows with it through scalability and platform integrations required to make your job easier and deliver successful results.
The ShaipCloud™ AI data platform simplifies workflow, reduces the friction of working with a distributed global workforce, provides greater visibility, real-time quality control, and seamless collaboration with all major cloud providers. There are data platforms. Then there are AI data platforms. We're the latter because the secure ShaipCloud™ human-in-the-loop platform offers the unparalleled functionality and speed to create, transform and annotate large amounts of data for your AI and ML models.
Robust Training Data Platform
The ShaipCloud™ platform collects and labels text, speech, audio, images, and video to help you continuously train and improve AI & ML algorithms. It is a Human-in-the-Loop machine learning platform to acquire AI or ML training datasets for your Conversational AI, Chatbots, NLP, and Computer Vision use cases.
The ShaipCloud Platform enables the team to define different projects, upload data files, monitor project progress, and download results.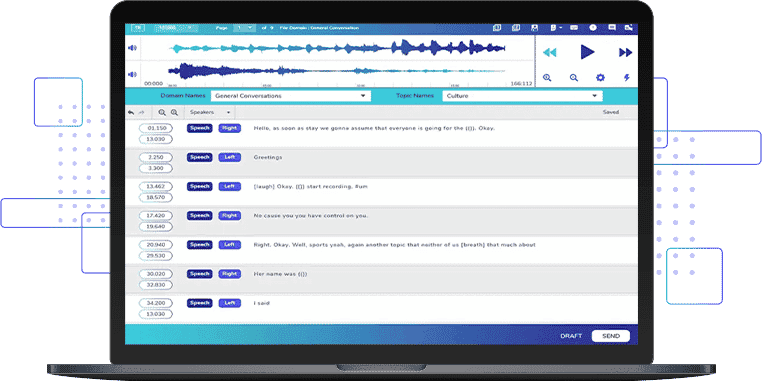 Unified Data Platform
The platform supports a wide variety of input and output formats
Real-time project monitoring via dashboards
Standard and advanced annotation tools for quick turnaround
Cross-platform support web, mobile, PC
Dedicated Workforce
Thousands of data collectors and annotators with years of specialized domain experience.
Professional project management.
ISO 9001 & ISO 27001 certification for information security management.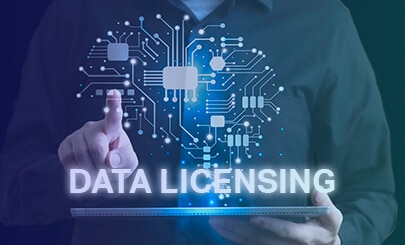 With our vast inventory, you can license off-the-shelf datasets i.e. text, audio, images, and video for your AI/ML models.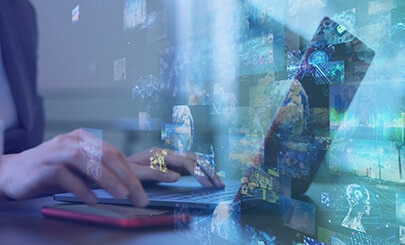 Leverage the power of crowd workers to create unique data sets directly from their mobile using the Web or App.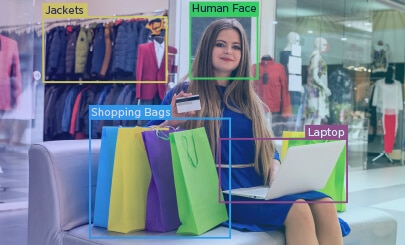 Leverage the platform for accurately labeling when it comes to managing text, audio, image or video.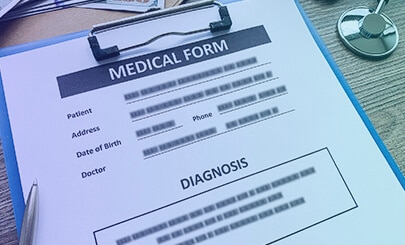 Meet GDPR and HIPAA regulatory guidelines by de-identifying sensitive information (PHI/PII) within the data.
Image
Video
Audio
Text
3D
Image
Image Collection
Image Annotation
Image Classification
Image Segmentation
Image Keypoint Annotation
Video
Audio
Text
3D
Intuitive User-Based Tools
Hotkey support and AI-assisted tools allow for increased productivity and ease of use that better streamlines workflow rates overall. 
Configurable Formatting
All collected data is seamlessly converted into AI ingestible formats that are prepped and customized to accommodate exacting client needs.
Acceleration Tools
Improve project efficiency via automated labeling technology for faster time to market.
Comprehensive Module Capabilities

Modules for Audit, Admin and workflow allow the platform to set optimal parameters for your enterprise – ensuring your productivity is automated and produces high-quality results.
Patented Web-Based Platform
The patented web-based platform can be accessed from anywhere in the globe.
Quick & Complete Data Acquisition
Large volumes of data can be easily gathered from simple and complex sources, consistently meeting clients' turnaround times with unerring accuracy.
Performance Management
Monitor efficiency and accuracy of individual annotators utilize historical data to filter and select workers for new tasks
AI-Enabled Auto Segmentation

Using our AI model, segments can be created automatically. With transcribers no longer having to focus on creating timestamps, this increases their productivity as their solo focus is now dedicated to transcription.
Robust Platform

Scale your annotation projects with easy-to-use yet advanced tools to address even your most demanding annotation needs of  any scale
Collaboration that promotes quality

Multi-level quality checks and effective collaboration that drive successful projects executions and boosts model performance.
High-Quality Audit Module

Leveraging a customized auto sampling segment, the system can set up a quality threshold for text and tag percentages. If quality criteria are not met, the system can auto-reject files as a result.
Auto-Allocation Capabilities
The admin module allows for the configuration of rules so that automated workflow is possible. Users can simply log into the system and begin tasks without having to wait for work to be assigned.
Workflow Module

The app lets you monitor overall workflow and optimize it by providing real-time user activity, status updates, and quality assurance reviews.
Audio Player Capabilities

The platform allows for two-channel audio files to be played on two separate speakers simultaneously. Additionally, It also has the capability to play separate audio channels.
Admin Module

An all-encompassing admin module helps manage user registration and permissions, maintaining strict control of access level and workflow level permissions.
Hotkey Support

Optimized productivity is achieved through the Platform's simplified hotkey support tools.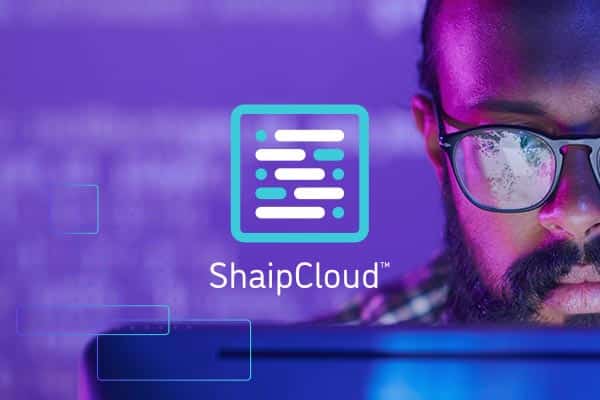 Experience unparalleled functionality and
platform integration.
Schedule a demo of the ShaipCloud™ AI data platform today.
APIs
When you need data in real-time you should be able to access APIs just as quickly. This is why Shaip APIs provide real time, on-demand access to the records you need. With Shaip APIs your teams now have fast and scalable access to de-identified records and quality contextualized medical data to complete their AI projects right the first time.
De-Identification API

Patient data is essential in developing the best possible healthcare AI projects. But protecting their personal information is just as essential. Shaip is a known industry leader in data de-identification, data masking, and data anonymization to remove all PHI/PII (personal health/identifying information).
De-identify, tokenize, and anonymize sensitive data for PHI, PII, and PCI
Confirm with HIPAA and Safe Harbor guidelines
Redact all 18 identifiers covered in HIPAA and Safe Harbor guidelines.
Expert certification and auditing of de-identification quality
Follow comprehensive PHI annotation guidelines to uniformly de-identify PHI data and adhere to the Safe Harbor guidelines
Comprehensive Compliance Coverage
Scale data de-identification across multiple regulatory jurisdictions including GDPR, HIPAA, and Safe Harbor.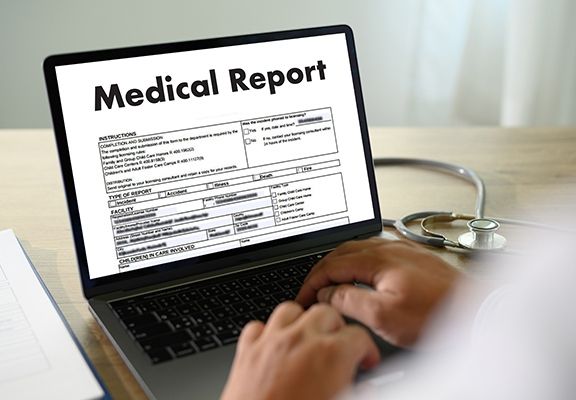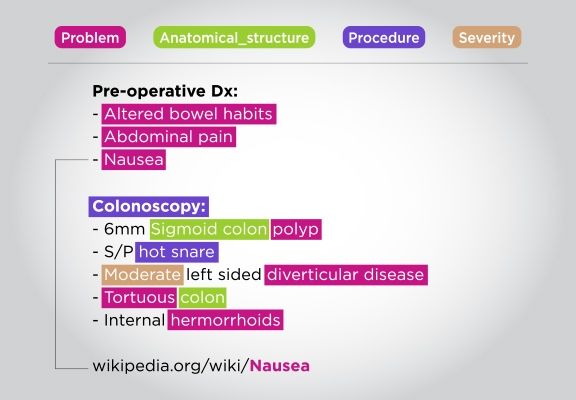 Medical NER

Clinical Named Entity Recognition (NER) is a critical natural language processing (NLP) task to extract important concepts (named entities) from clinical narratives. NER APIs empower developers to easily extract clinical entities such as diagnosis, procedure, medical device, labs, medication, and much more from Electronic Health Record (EHR) unstructured data. Developers can also use these APIs to codify extracted entities in SNOMED-CT and RxNorm.
Medical NER extracted by Shaip APIs:
Entity recognition and extraction: Identify key concepts or phrases present in the source material
Improve clinical data integrity by mapping data elements present in unstructured text to structured fields.
Convert unstructured data into the machine-readable and machine-processable format.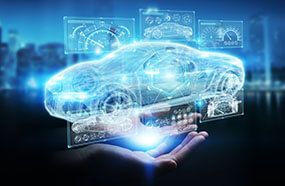 Autonomous Driving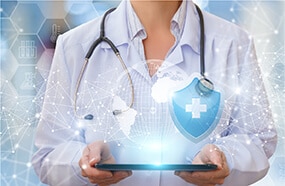 Healthcare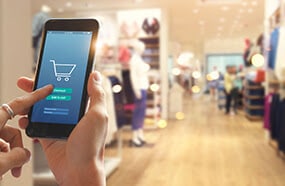 Retail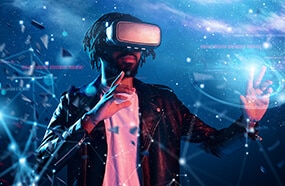 AR/VR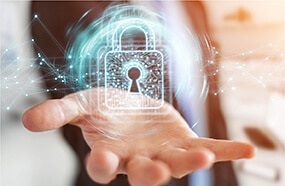 Security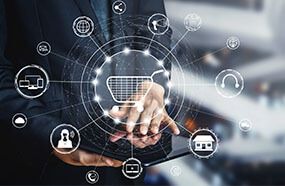 Fashion & Ecommerce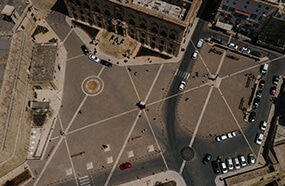 Drones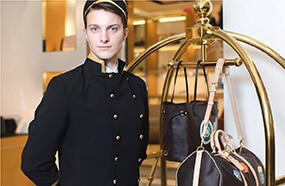 Hospitality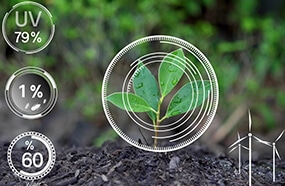 Agriculture