The role that data plays in today's digitally supreme world is becoming immensely critical. Data is necessary, whether for business forecasting, weather forecasting, or even training artificial computers. Technologies such as machine learning leverage high-quality training and testing data to train their models.
Siri and Alexa are some common examples of trained speech or voice recognition software. However, there is still room for improvement when discussing these technologies. Companies try to work with specific requirements as it is highly unlikely to get an existing dataset containing all training data. It is done by leveraging speech data collection from multiple sources.
So let us understand in this blog what speech data collection is and how it benefits speech recognition software.
What is Remote Speech Data Collection?
Remote speech data collection is a process of gathering data from various sources and further processing it to create data sets for Conversational AI. It is also known as ​audio data collection. The remotely collected speech data is accumulated using a mobile app or a web browser.
Typically, for this process, a set number of participants are recruited online based on their language and demographic profile. Then they are asked to record speech samples for different narratives, conditions, and situations. This way, data sets are prepared, and, when required, the data sets are utilized for different use cases.
Pros and Cons of Remote Speech Data Collection?
Like every other technology, remote audio data collection, too, has its advantages and disadvantages. Let us look at them down below:
Pros: Here are some of the perks of speech data collection:
Cost-Effective Solution: Collecting data remotely through apps is more economical than meeting people in person.
High Customizable: The data can be customized and modified as per the exact training data specifications.
Higher Scalability: Crowdsource workers can collect data in their infrastructure, which provides higher flexibility and option to scale the project
Ownership of Data: the ownership of data lies with you.
Versatility of Speech Data: You can gather different data sets such as scenario-based, command-based, or unscripted speech.
Cons: There are a few cons of using speech data collection:
Different Audio Specifications of Different Users: The biggest challenge in this process is making the data uniform. As participants use different recorders or digital devices to record their voices, you obtain all kinds of output files.
Limited Background Scenario Options: The speech data collection does not provide optimal results when you need a particular background scenario in your data. In such cases, you will have to hire an in-person voice artist to do the needful.
Importance of Crowd Management Platform
Speech data collection is a technology that demands the participation of an extensive number of people from all walks of life. The nature of data to be collected depends upon the project requirements.The process of Data Collection becomes highly complex when many people need to be recruited.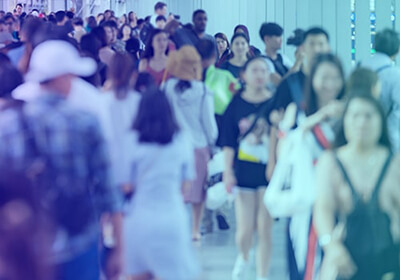 The process starts with planning and recruiting people and further moves to transcription, annotation, and quality assurance.
Hence, a good crowd management platform is required to make the process efficient and qualitative. So it is essential to seek the help of professionals proficient in this technology to conduct the data collection process seamlessly.
Let's discuss your AI Training Data requirement today.
How to Maintain Quality While Crowd Sourcing?
To maintain the quality of the collected data, it is important to utilize different crowdsourcing techniques. Some of the techniques include:
Crisp & Clear Guidelines: It is important to provide clear guidelines to the participants through which you are collecting the data. Only when they fully understand the process and how their contribution would help will they be able to deliver their best. You can provide visual aids, screenshots, and short videos to make them understand the requirements.
Recruiting a Diverse Set of People: If you want to accumulate rich data, hiring people of different origins is the key. Search people across different market segments, age groups, ethnicities, economic backgrounds, and more. They will help you gather a good data set.
Leverage the Best Quality Analysis Processes: To ensure the best quality, pass your data through high-quality tests. Generally, a quality analysis must be done with the following processes:

Quality tests are done by machine learning models.
Quality tests are led by a team of quality assurance professionals.

Validate Data Through Machines: There are validation techniques in which machine learning models assess the data to provide their report further. They can validate necessary aspects of required data such as duration, audio quality, format, etc.
Tips to Make Your Remote Data Collection Process Successful

Build a User-Friendly Interface: Foremostly, the remote data collection solution that you design must be functional and deliver a great user experience. The solution should work seamlessly to gather data and make the process easier for its users.
Have a Central Administration System: It links all the necessary components of the process and helps manage different processes from a single source. Some of the functions of a central administration system are:

It is the master platform for the whole process.
It helps ​​connect with finance-related matters.
It is used to send out invites to a user base.
It controls the flow of submissions from multiple sources.
It aids in the management of the payment process.

Create Effective & Valid Recruitment Strategies: The biggest challenge while collecting the data from different demographics is recruiting the right set of people. If you do not have a prominent brand, the chances of people trading their data for money are very minute.
Hence, you need to bring in effective strategies through which people can genuinely see value in your process and easily agree on their contribution.
Final Thoughts
Remote speech data collection is a great process that will gain huge momentum in the coming years. With advancing technology, the need for such solutions is rising. So if you, too, have any related idea in your mind and need a way to execute it, talk to our expert teams today.